My Facebook followers get a daily dose of "what I eat" since I started photo food journaling in January. See the full photo album
here
. In an attempt not to be redundant, I've skipped a couple
What I Ate Wednesdays (WIAW)
. Upon your request, I bring it back to share my homemade pizza recipe with you! Enjoy!
Coffee and oatmeal with extra raisins, strawberries and walnuts.
High protein and carbs to fuel a morning swim & spin workout.
225 calories
Tuna wrap with 1/2 apple and veggie straws
355 calories
coffee and a Skinny Cow chocolate bar - 115 calories
Homemade pizza with a salad - 380 calories
Not pictured: a Fudgsicle sugar-free bar. 40 calories
Daily Total: 1115 calories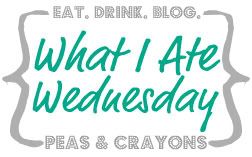 One of the hardest parts of dieting for me is missing out on Friday Night Pizza, kind of a tradition in our house. A couple weeks ago, I decided to create my own, as low-cal as I could go. I've made it three times since - it's that good. Plus it's a fun activity for the kids to get in the kitchen and create our dinner together. My kids love to cook with me.
THIN-CRUST PIZZA BY JESS
INGREDIENTS
Flatout Flatbread (Multi-grain w/Flax)
Ragu Pizza Sauce (Homemade style)
Finely shredded Mozzarella Cheese
Hormel Turkey Pepperoni
Chopped Red Onion
Diced Fresh Roma Tomato
Fresh Spinach Leaves
• Preheat oven to 425˚. Line a cookie sheet with tin foil (helps make the crust crispy).
• Spread 1/4 cup pizza sauce onto flatbread.
• Measure out 1/3 cup mozzarella cheese. Sprinkle half of it onto of sauce.
• Top the pizza with 9 slices of turkey pepperoni, a heaping tablespoon of red onion, a handful of diced tomato, and a healthy handful of spinach leaves (I rip them up into smaller pieces).
• Finally top with the remaining mozzarella cheese.
I let the kids use regular pepperoni and more cheese.
In this one, it looks like I sprinkled on a little cheddar too.
• Bake in oven at 425˚ for about 10 minutes. Keep an eye on it - I usually don't time it, just pull it out when the sides are crispy and top starts to golden.
• Cool, cut and serve with the side dish of your choice. I picked a nice salad, while the girls went with oranges and applesauce.
The pizza alone (as measured by the recipe above) is only 260 calories. Seriously, the WHOLE pizza! I could live on this! The salad and dressing added on another 100 calories.
Let me know if you give it a try, your thoughts and any improvisions you make!
Bon Appetite!